So I started dueling again yesterday after so many years, and decided to make a deck. But none of the new archetypes interested me (I was quite disgusted by some of them, infact

). I decided to stick with what I know, even though my YGO knowledge is pretty
ancient
by today's standards.

---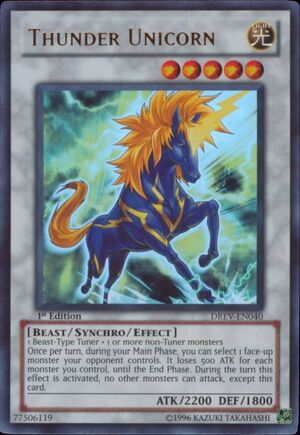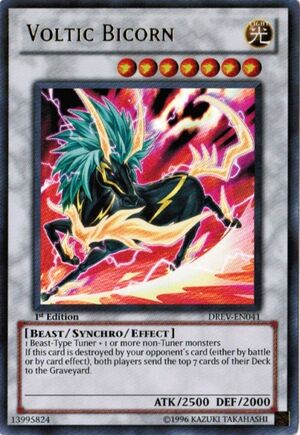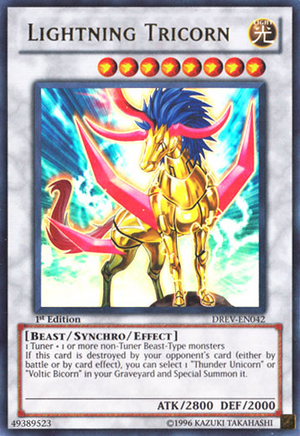 Team Unicorn were my favorite characters in 5D's and I really love the Unicorn archetype, even though it is just a bunch of 3 monsters with no proper support. They all need Beast Tuners, and a lot of Beast-type Tuners are EARTH. So,
was a natural choice.
The deck in this post focuses on the second one,
Voltic Bicorn
. If I put in Thunder Unicorn in, it would most probably never be used. I'll make another deck with Thunder Unicorn later in this thread. Tricorn isn't much by itself, its just a support card for these two. I don't think Tricorn needs a deck for itself.
---
Let's move on to the thing that interests you the most: the Charmers!
I'd like to say that Aussa is a key card here, but I would be lying. The key card is this one. (Aussa is in it, too)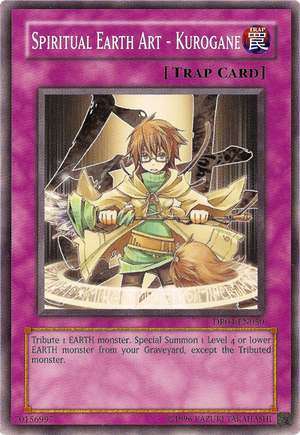 ---
Foreword
This deck is currently incomplete. And
very
rough, ugly, etc. Since it focuses on Voltic Bicorn which mills my cards too, I use 40+ cards. So don't get angry about that. I'll fix it later. Consider this deck version 0.1.
Decklist
Whoa? Are you still there? Done puking? Okay, let's move on.
Monsters - 21
Avalanching Aussa x3
Giant Rat x3
Scrap Beast x3
X-Saber Airbellum x3
Goblindbergh x2
Blockman x2
Lava Golem x2
Zero Gardna x1
Gigantes x1
Outstanding Dog Marron x1
(IMPORTANT!)
Spells - 10
Scapegoat x3
Creature Swap x2
Gold Sarcophagus x2
Dark Hole x2
Raigeki x1
Traps - 18
(lots of traps!)

Spiritual Earth Art - Kurogane x3
Stronghold the Moving Fortress x3
Call of the Haunted x3
Mirror Force x2
Quaking Mirror Force x2
Smashing Mirror Force x2
Defense Draw x2
Torrential Tribute x1
Extra Deck
Voltic Bicorn x3
Standard Level 7 and 8 Synchros
Standard Rank 4 Xyz
---
Card Notes
Torrential Tribute
,
Raigeki
and
Dark Hole
are here to clear the field, obviously. Since swarming and searching archetypes are really common.
Mirror Force
cards to deal with swarming attackers.
Giant Rat
searches EARTH monsters, can bring out Aussa, Zero Gardna and Blockman.
Scapegoat
is a very important and versatile card here. The tokens can be used to defend, or synchro summon to Lv7 or 8.
The tuners are
X-Saber Airbellum
(LV3) and
Scrap Beast
(LV4).
Stronghold
is a good fit here, it becomes a EARTH trap monster and can be used to synchro, as tribute for Aussa, or Rank 4 Xyz. Or even as a plain 2000DEF barrier.
Blockman
can be searched out by Rat and tributed to increase field presence. The tokens are Level 4.
Lava Golem
is also a good fit here, because the newer archetypes swarm so much its crazy.
Revival Gift
can make life easier but I am not too fond of the idea of giving my opponent more field presence when I'm going to have just one or two monsters.
Strategies

- Basically, to bring out Voltic Bicorn and:
1) Ram it into and opponent's monster (or Lava Golem), then cover with Defense Draw if available
2) Let the opponent destroy it with a card effect
- If a Bicorn was successfully used, use CoTH to summon and mill again.
- Lava Golem to get rid of opponent's monsters
- Creature Swap to switch their monsters with my tokens and other fun stuff
- To get Voltic Bicorn:
1) X-Saber Airbellum + Blockman/BlockToken/Scapegoats/Aussa/Giant Rat/Goblindbergh/Gigantes/Zero Gardna
2) Scrap Beast + Scapegoats
- Scrap Beast can get a Rank 4 Xyz or Lv8 Synchro really easily since so many others are level 4.
Threats
- Stuff like that Blue Eyes Spirit Dragon and Debunk
- Card control archetypes
Areas of Improvement
- Too many.
---
Needs a lot of improvement, and I want you guys to help me with that. Since I don't know about the newer cards that were released, maybe there is something that will improve this deck a lot. If you know something like that, pls suggest.
Other than that, its pretty fun. I'm 8-2 with this deck on DN, lost to Blue-Eyes both times. Machine Angels gave me a really hard time, but they decked out before they could kill my 900LP. On the other hand, a game against Lightsworns was over in six-seven turns.

I'm looking forward to your suggestions.
EDIT: Just remembered
Pinpoint Guard
. Will update.
EDIT2: Adding a lot of other stuff.