WELCOME TO CATASTOR'S FUN DECK ADVENTURE!!!!!
PRESENTING ME! YOUR GUIDE CATASTOR
, ALONGSIDE PROF. CA.T.ASTOR
, AND MY HELPER! JUSTICE-CHAN!
For my old friend, hello, me, Catastor is back(being active) into this forum.
For whoever new or don't know me, nice to meet you, my name is Catastor, but just
call me Cat or Justice :3
Catastor is pretty long and hard to type, harder than Justice anyway :v
Anyway, this will be a page where I will post some Deck List I managed to make(when
I'm bored anyway :v) with strange and rather quirky gimmick -w-
for that, I will be needing you guys input for making the deck more usable and fun
to play XD
also, close the damn commentary! we will roll now!
Fun Deck with CA.T.ASTOR
: WELCOME! TO ALL OF YOU! TO MY REALM WHERE FUN IS CREATED IN A
STRANGE DECK WITH EVEN STRANGER GIMMICK!
TODAY, I, PROF. CA.T.ASTOR WILL PRESENT YOU!
THE BEAST OF THIS DUNGEON!
BEHOLD! THE DEMONIC "FIEND SKULL DRAGON!"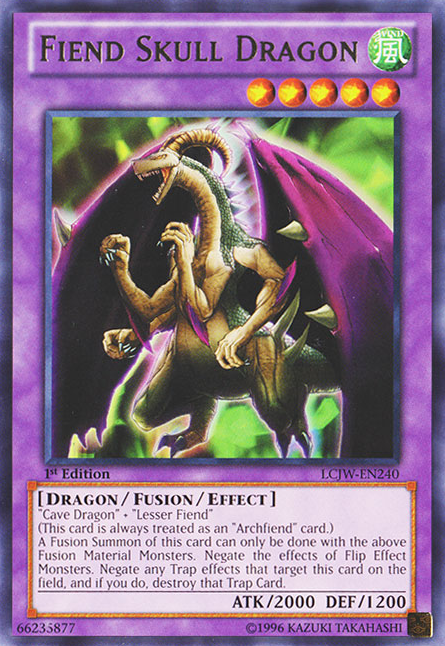 : BEAST WITH 2000 ATTACK AND 1200 DEFENSE!
BEING DRAGON TYPE ALONGSIDE WIND ATTRIBUTE!
THIS FEROCIOUS BEAST HAVE A SPECIAL EFFECT THAT WILL NULLIFY ANY FLIP MONSTER'S EFFECT, AND EVERY TRAP THAT TARGET HIM WILL BE NOTHING BUT DUST! NEGATED AND DESTROYED!
: what an interesting monster Prof. CA, but I am wanting to ask a question
what monster is that? the monster type I mean, like tuner or effect?
: YOU, MY FRIEND, JUST ANSWER THE QUESTION OF WHY THIS CARD IS
HARDLY USED, WHICH IS BECAUSE THIS CARD, IS NOTHING BUT A FUSION MONSTER!
EVEN MORE, THIS CARD NEED A SPECIALIZED MATERIAL TO FUSION THIS CARD! WHICH MEANS THAT THINKING OF USING INSTANT FUSION OR KING OF SWAMP WON'T HELP!
EVEN WORSE, THIS CARD IS A WIND TYPE! WHICH IS NOT ENCLOSED BY THE "HEX" SERIES THAT USED TO HELP THE CYBER DRAGON! WHICH MAKE THIS CARD EVEN WORSE
BUT THAT WAS BEYOND OUR POINT, WE ARE HERE TO HAVE FUN!
WHICH IS WHY, LET US GO DEEPER! TO UNDERSTAND THIS CARD BETTER
: FIEND SKULL, AS I HAVE SAID, IS A FUSION MONSTER, WITH LEVEL 5 AS ITS LEVEL ALONGSIDE THE FACT THAT IT USE 2 MONSTER AS ITS FUSION MATERIAL
THE TWO OF ITS MATERIAL IS BEING CALLED "CAVE DRAGON" AND "LESSER FIEND"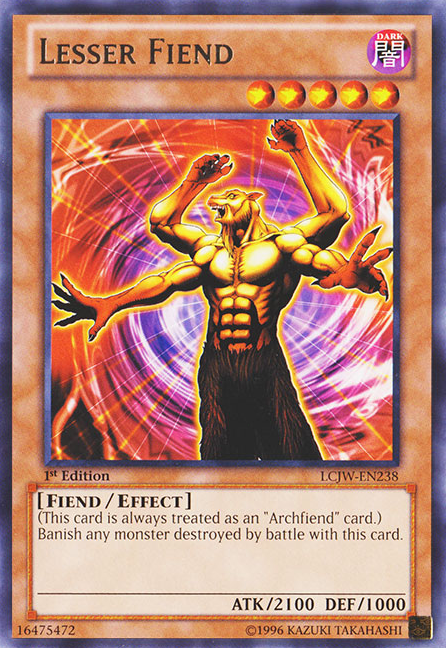 : BOTH BEING EFFECT MONSTER!
WE WILL COVER THE CARD CALLED "LESSER FIEND" FIRST!
: LESSER FIEND IS AN OLD CARD, WHICH IS ACTUALLY CALLED "LESSER
ARCHFIEND", UNTIL HOW KONAMI MIS-TRANLATED THAT CARD, MAKING THE CARD ALWAYS CALLED "ARCHFIEND", YET NEVER HAVING "ARCHFIEND" AS ITS NAME
IT IS A FIEND TYPE AND DARK ATTRIBUTE CARD, WITH 5 LEVEL AND 2100 ATTACK ALONGSIDE 1000 ATTACK! A SOLID MONSTER!
AND ITS EFFECT IS EVEN BETTER!
ANY CARD THAT IS DESTROYED BY BATTLE BY THIS DEMON WILL BE BANISHED!
WONDERFUL EFFECT FOR THE FACT THAT MOST DECK NOW USE THEIR GRAVE MORE AND MORE!
: a question again Prof, isn't this card much better than Fiend Skull
and even more efficient? why are you focusing on "Fiend skull Dragon" instead of
"Lesser Fiend"?
: THE ANSWER FOR THAT, MY FRIEND, IS OF COURSE BECAUSE OF THE LOOK!
LOOK AT LESSER FIEND'S HEAD! IT ALMOST LOOKS LIKE THAT MONSTER IS BALD AND ALL!
WHILE THE DEMON CALLED FIEND SKULL DRAGON, EVEN THE NAME SHOWN HOW MUCH BETTER HE IS IN COOLNESS THAN THE LESSER FIEND, EVEN LESSER FIEND HAVE TOLD US HOW LESSER HE IS THAN FIEND SKULL
: I see your reasoning, please continue
: WE WILL CONTINUE TO THE OTHER FUSION MATERIAL!
BEHOLD! THE FEROCIOUS BEAST CALLED "CAVE DRAGON"!
: didn't seem any ferocious, he seems like sleeping
: FOOL! THIS BEAST IS A DRAGON TYPE AND WIND ATTRIBUTE BEING!
WITH SHOCKING POWER OF 2000 ATTACK AND 100 DEFENSE!
THIS BEAST IS NOT TO BE LOOKED DOWN!
: but prof, the card's effect have stop it from being summoned normally unless you have no monster on your field, alongside the fact that you need another
face up Dragon type monster to perform attack with him
: TRUE! AND THAT IS WHY THIS IS A FUN DECK TALK!
BECAUSE MOST OF THE CARD WE USE ARE ALMOST USELESS!
: and why is he called "Cave" but have wind attribute? should it
be earth?
: THAT MY CHILD, IS NOT COVERED HERE, PLEASE COMPLAIN TOWARD KONAMI
AND HOW THEY MAKE CARD
ANYHOW! LET US GO TO THE DECK PAGE!
[img[url=https://servimg.com/view/18658058/7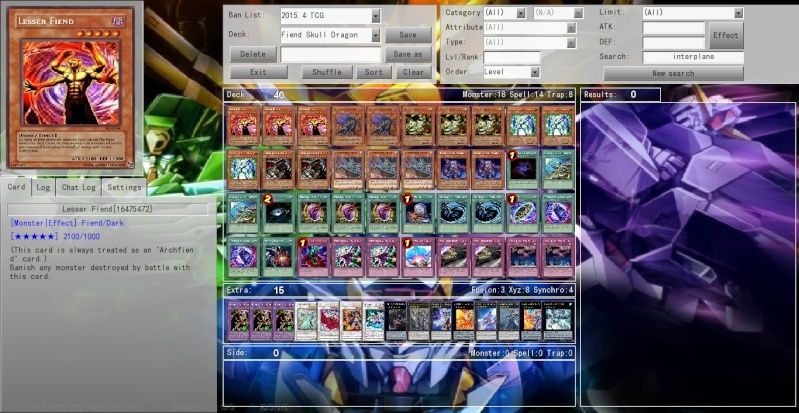 [/url][/img]
: the deck is rather low on monster number I see, can you explain how
the deck is played prof?
: AS YOU CAN SEE MY FRIEND, WE ARE TO MAXIMIZE THE NUMBER OF THE FUSION MATERIAL FOR FIEND SKULL DRAGON, AND EVEN THEN, WE DON'T ACTUALLY USE THEM AT ALL!
ONE OF THE MAIN CARD IN THIS DECK IS "ELEMENTAL HERO PRISMA"
MONSTER WITH 4 LEVEL, WARRIOR TYPE AND LIGHT ATTRIBUTE, WITH HIGH 1700 ATTACK AND 1200 DEFENSE, CAN REVEAL ONE FUSION MONSTER TO SEND 1 FUSION MATERIAL IN ITS MATERIAL LIST, FROM DECK TO GRAVEYARD TO COPY ITS NAME!
A SOLID MOVE TO SEND CARDS LIKE "LESSER FIEND" ALONGSIDE "CAVE DRAGON"
IT CAN ALSO BE EASILY SEARCHED BY "REINFORCEMENT OF THE ARMY", ALONGSIDE LEVEL AT 4 TO USE AS EXCEED MATERIAL FOR RANK 4 MONSTER!
THE OTHER CARD IN TERM OF GRAVE SENDING IS "ARMAGEDDON KNIGHT" ANOTHER WARRIOR MONSTER WITH DARK ATTRIBUTE WHICH CAN BE SEARCHED BY "REINFORCEMENT OF THE ARMY" AS WELL
IT HAVE 4 LEVEL WITH 1400 ATTACK AND 1200 DEFENSE, WITH ABILITY TO SEND 1 DARK
ATTRIBUTE MONSTER FROM DECK TO GRAVE WHEN IT IS SUMMONED! WHICH MEANS IT CAN SEND ANY DARK MONSTER, LIKE "LESSER FIEND"
BUT ITS BEST USE, IS ACTUALLY ON ANOTHER MONSTER, WHICH IS THE
"INTERPLANETARYTHORNYPURPLY BEAST", MONSTER WITH 5 LEVEL, A BEAST TYPE AND DARK ATTRIBUTE.
ABILITY THAT CAN SPECIAL SUMMON ITSELF FROM GRAVE WHEN A MONSTER YOU CONTROL IS DESTROYED BY BATTLE, A FREE LEVEL 5 MONSTER!
SADLY, NOTE THAT THIS CARD CAN ONLY ACTIVATE ITS EFFECT ONCE PER TURN
: prof, you forgot that it is banished when it leave the field
: AND THAT AS WELL, THANK YOU FOR ANSWERING CATASTOR!
ANOTHER TARGET OF ARMAGEDDON KNIGHT, IS OF COUSE, THE "PLAGUESPREAD ZOMBIE" A SMALL ZOMBIE TYPE CREATURE WITH DARK ATTRIBUTE, IT IS A LEVEL 2 TUNER MONSTER WITH ABILITY TO PUT 1 CARD FROM YOUR HAND TO TOP DECK AND SPECIAL SUMMON IT! AN EXTREMELY NICE CARD CONSIDERING THAT IT IS A TUNER MONSTER!
: I know! this card also got banished when it leave the field!
: CORRECT YOUNG ONE! THIS MONSTER WILL SHY AWAY FROM THE GRAVE AFTER YOU HAVE SPECIAL SUMMON IT BY ITS OWN EFFECT, STOPPING YOU FROM USING IT CONTINUOUSLY
that's a lot of card that got banished, is it really a good thing to do
so?
OF COURSE IT IS!!! FOR WE ARE ABUSING ANOTHER CARD!!!! THE CARD
KNOWN AS D.D.R
I know that card! it's an equip card that special summon a banished monster, in exchange of discarding one card
BINGO MY LITTLE ROBOT ASSISTANT! THIS CARD CAN BE USED TO SPECIAL SUMMON THE BANISHED "PLAGUESPREAD" OR "LESSER FIEND", MAKING THEM TARGET OF EITHER XYZ SUMMON OR SYNCHRO SUMMON!!!!
seems like the author is getting bored of writing this, which is why,
we will be ending this now
BU-BUT!!!! I'M NOT DONE YE-!!!